NO I AM NOT TALKING ABOUT THE RED GRAVY YOU MAY FIND SIMMERING FOR HOURS ON A SUNDAY AFTERNOON, OR THE BROWN KIND LADLED OVER YOUR TURKEY ON THANKSGIVING. I AM REFERRING TO THE WHITE GRAVY CONSISTING OF SAUSAGE AND BLACK PEPPER, TRADITIONALLY SERVED OVER FLAKY BUTTERY BISCUITS. THIS SOUTHERN DISH IS PURE COMFORT FOOD...BUT FIREFIGHTER/CHEF MIKE JUDGE OF THE SANTE FE COUNTY FIRE DEPARTMENT ADDS A SOUTHWESTERN TWIST TO HIS VERSION...
This is the beautiful thing about cooking, there are no rules. Recipes were meant to be poked, shifted, manipulated and tweaked. Through Fork and Hose Co. I have seen the influence geography has on firehouse cuisine, and it is a wonderful thing. That is exactly what makes this dish unique with the use of green chiles in this Santa Fe inspired sausage gravy. Firefighter Mike used garden fresh green chiles in this recipe but recommends the HATCH brand if fresh chiles are not available. For more on this Santa Fe staple, here are a few words from Mike....
"Every region has their specialties. Most can be grown anywhere in the US, but generally regarded the best comes from that certain region. Peaches, sweet onions, potatoes all have their climates where they thrive. In New Mexico the specialty is unquestionably the green chile. Our most famous export has recently been spotted traveling out throughout the US as more and more cooks are becoming familiar with the famous flavor and more becoming comfortable working with them. Here in New Mexico, chile is as readily available as a bottle of ketchup. Restaurants come and go based on the quality of their chile. It is serious business here. Green chile can have minimal heat, just a warming note while others can be hotter than a hot jalapeño. The best part is, the versatile chile can be added to almost any dish (put on your next cheeseburger, pizza) adding an element of depth of flavor that is unique. Chile is harvested, then flame roasted to give it that extra flavor, or it is allowed to ripe into a deep red color, then dried and crushed into a powder, which is where red chile comes from. Look for some small yellow cans in the Hispanic isle at the grocery store, it will probably be from Hatch, NM and will be listed as hot or mild diced green chile. Pick one up and try it out! The green chile in this dish should add a little heat and some extra flavor to a very stout breakfast. We make this when we have a big day ahead of us and lunch might be uncertain." - Firefighter Mike Judge - Santa Fe County F.D.
BISCUITS AND GREEN CHILE GRAVY

INGREDIENTS:
GRAVY
1 LB. BREAKFAST SAUSAGE
GREEN CHILE - NEW MEXICO, FLAME ROASTED, HOT OR MILD, 8oz. OR MORE TO YOUR LIKING
3 CUPS MILK
1/3 CUP ALL-PURPOSE FLOUR
2 CLOVES OF GARLIC
BISCUITS, HOMEMADE OR CANNED
BLACK PEPPER
EGGS
PROCEDURE:
In a large pan, add sausage and brown over medium heat. When sausage is mostly browned add garlic and green chile. Allow to warm for a couple minutes integrating with sausage.
Sprinkle the flour evenly around the sausage. It will become pretty gummy, lower the heat and allow to cook for a minute to get the rawness out of the flour.
Add the milk and increase the heat. Bring the mixture up to a simmer and allow to simmer for a few minutes. If the mixture isn't quite coming together, or for a thicker gravy, add two tablespoons of flour to 3 tablespoons of cold milk and mix well before pouring into the mixture. Remember, it will thicken up once it comes off the heat.
Finish with black pepper, then serve on biscuits with eggs cooked to your liking. I prefer a basted egg, in the last photo the probie made scrambled eggs - not our favorite.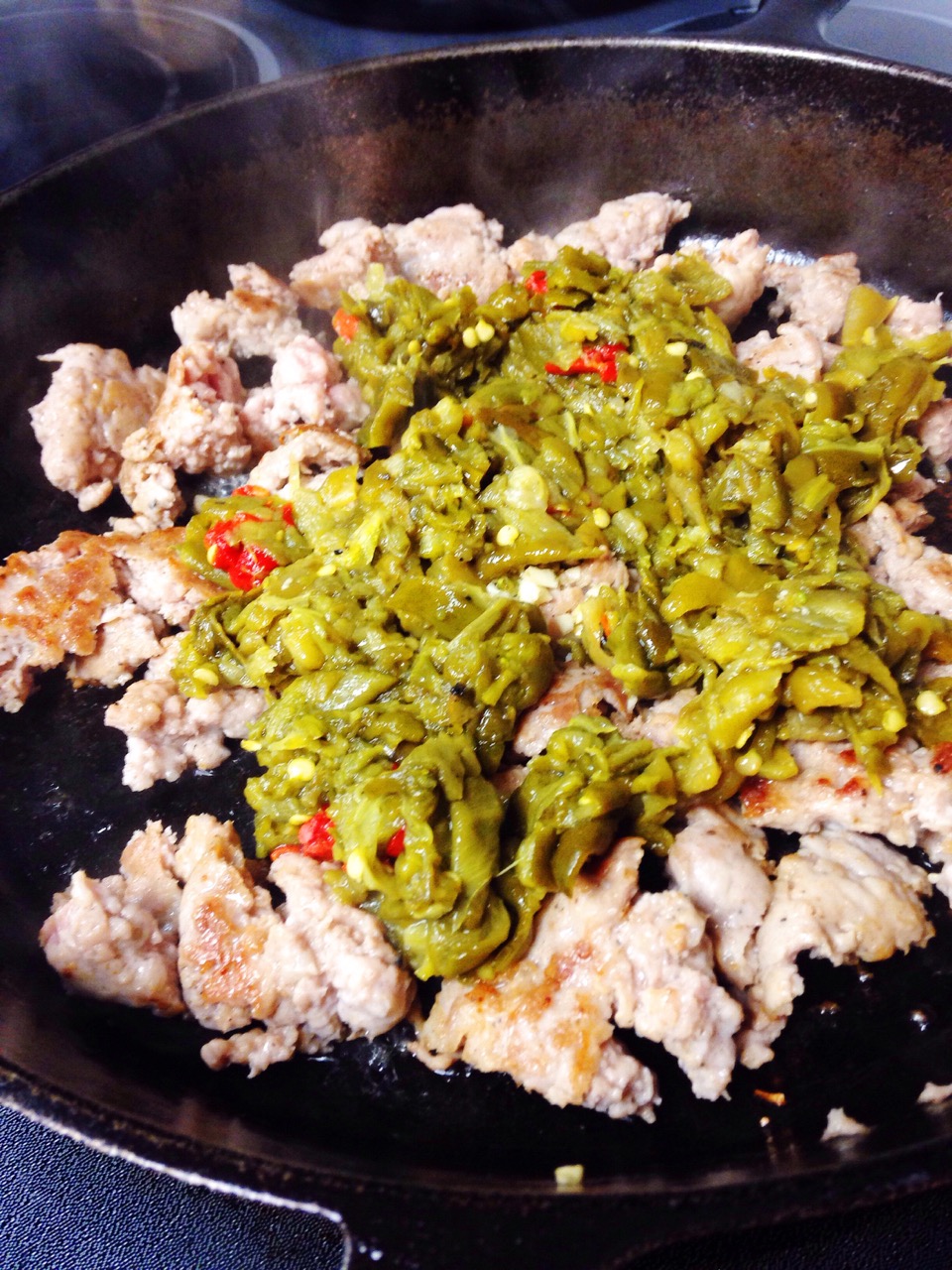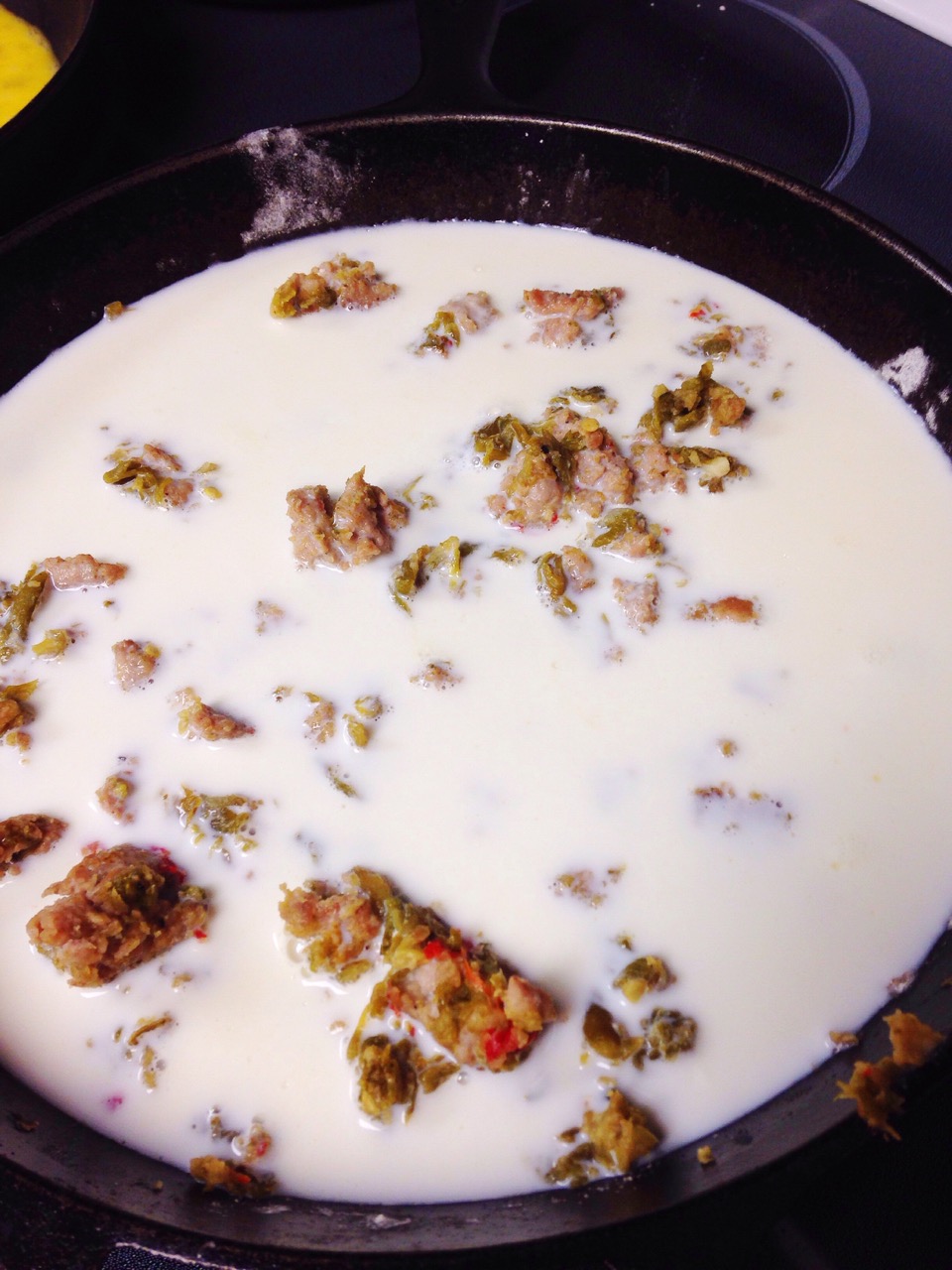 THE FINISHED PRODUCT...A DISH THAT WAS ORIGINALLY DESIGNED BY NECESSITY USING CHEAP INGREDIENTS TO FEED SAWMILL WORKERS, NOW TRANSFORMED INTO SOMETHING THAT CAN SATISFY THE HUNGRIEST FIREFIGHTER
THE PROBIE MADE SCRAMBLED EGGS......UNACCEPTABLE. THIS DISH NEEDS A NICE RUNNY YOLK SO THAT IT CAN MELD INTO THE GRAVY, TAKING IT TO ANOTHER LEVEL OF FLAVOR AND DELICIOUSNESS. PLEASE, GIVE THE RUNNY EGG A CHANCE!